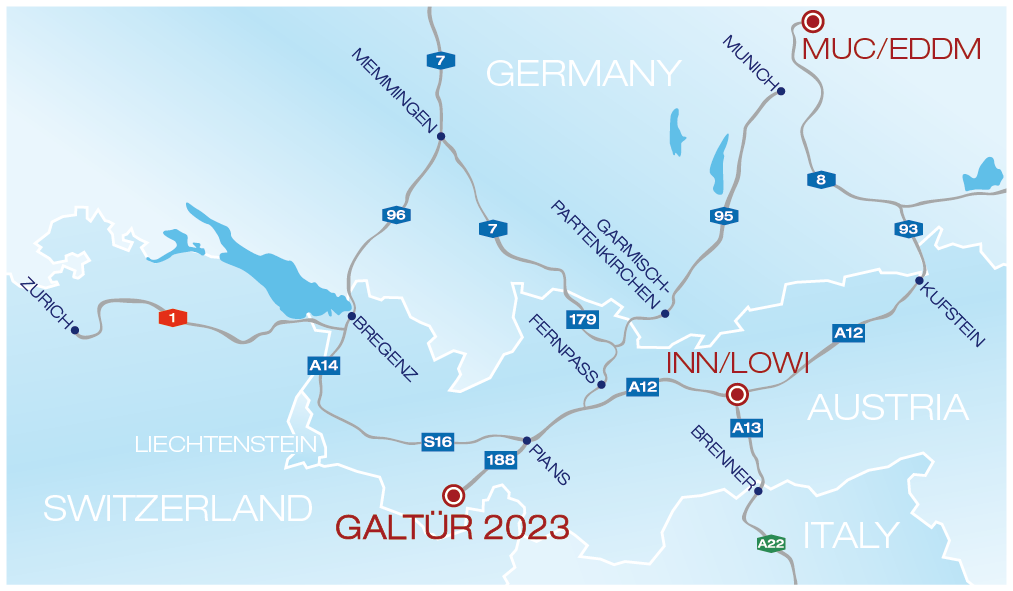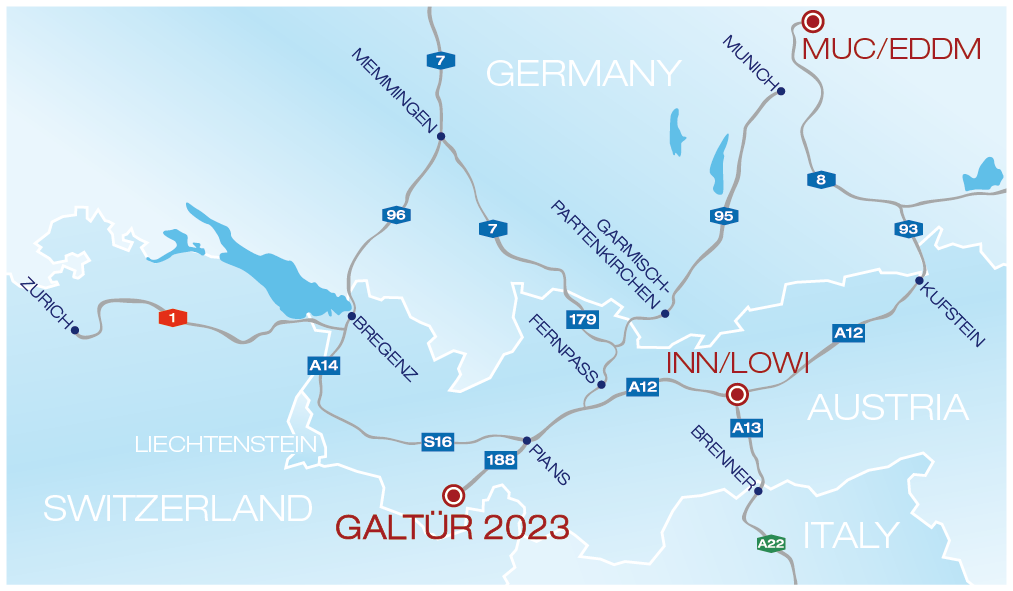 BY PLANE
You can fly into Munich (MUC) or Innsbruck Airport (INN). Bus transfer (not included in the package) will be available from both airports. As soon as we know how many people will be arriving via MUC or INN , we will work out what is the best option and let you know as soon as possible.
MUC: approx. 240 km, expect 4.5h bus ride
INN: approx. 110 km, expect 2h bus ride
To arrive on time for the opening ceremony, we recommend arriving at Munich Airport no later than 12:00 local time!
BY CAR
Galtür is located at the end of the Paznaun, which is accessible via the Inn Valley when coming from the East, or via St. Anton from the west. It's about a three hour drive from Zurich and Munich, five hours from Milan. Remember the toll that is charged for Austrian motorways. Also note, that the "scenic route" via the Silvretta Hochalpenstraße to Galtür, is closed in winter!
BY BUS AND TRAIN
You can also reach Galtür by public transport but you will need a bit of extra time for that. There are twice-hourly trains from Innsbruck to Landeck (travel time between 40 and 60 minutes) with hourly bus connections from there on to Galtür. Direct trains from Zurich leave every two hours and will get you to Landeck in 2:45. The bus ride then takes 1:10, offering scenic and stunning views of the Alpine landscape.
For details on connections and prices go to
www.oebb.at
Galtür and Wirl are less than two kilometers apart. Ski buses operate frequently between Galtür and Wirl to assure you get around easily. Shuttle time is less than five minutes, walking takes about 15 to 20 minutes.
GFLers who are staying in Wirl can simply ski in and out as the hotels are right at the slopes. For GFLers staying in Galtür it's a short bus ride to get to the slopes. Ski busses stop right in front of the hotels.
Welcome- and themeparties as well as the farewell dinner will be held in Galtür at the 'Silvretta Hall' which is within walking distance from the three hotels in Galtür. For GFLers who are staying in Wirl there will be a free bus shuttle to get to the parties.
To get an overview of the locations check out our ski and hotel map:
For further information please contact the OC: